Well, after a tough week – two fillings with no novocaine (I'm allergic), a blood draw, my grandmother in the hospital, and a couple of cold rainy days – we decided to take an afternoon off to tour Woodinville – visit Willows Lodge, pet their Vietnamese potbellied pigs, check out their herb gardens, try the ice cream at the lavender farm, and take a walk on the Sammamish River Trail as Mount Rainier shone in the background. We were celebrating that my b12 was shown to be in normal range for the first time in ten years (thanks to a new prescription called Nascobal, way for effective for me than the shots!) Also, my grandmother got out of the hospital, and my brother and sister-in-law's continued exploring of the East side as their new home! We visited a new restaurant, The Commons in Woodinville, with good coffee, wine, excellent beer and cider on tap, and nice salads, fried Brussels sprouts, and delicious salted caramels.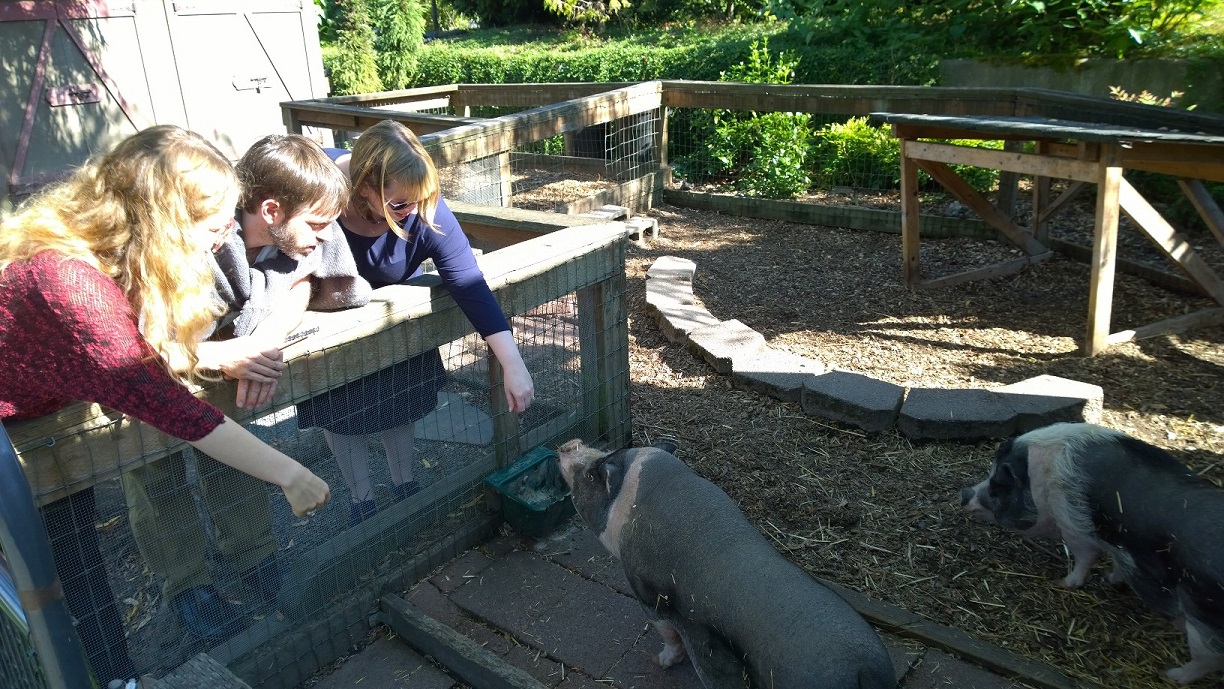 Who can resist a cute pig? Not me! And he was wagging his tail!
I also worked on a new "personal essay" – a new genre that I'm trying out – and sent out an essay and a short story. It's always nerve-wracking trying out genres outside your comfort zone! But that's what rainy days are good for. I'm usually a zombie for a day or two after dental work, but this week, the day after the fillings, I did get to meet with a writer friend visiting Seattle for work, and that was a lot of fun! (Hopefully I wasn't too zombie like!) We talked creative non-fiction and poetry, which was great and very encouraging.
Seattle-ites, in summer, I have to admit, aren't very good at knuckling down and getting work done during our three sunny months. That's why a few days of rain are not only good for our gardens and grass, but our creative and work projects! But now, another long stretch of sunny days in front of us, and I'm planting a big pink dahlia in my garden (though none of my dahlias thus far have survived, I'm an eternal flower optimist!)