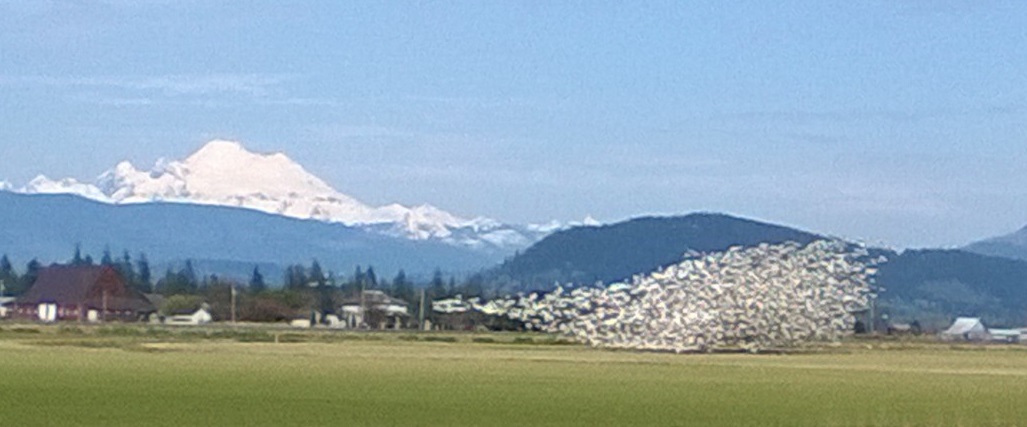 Last year I wrote a little bit about how to survive hard times:
http://www.webbish6.com/you-are-not-tethered-to-darkness-and-other-advice-on-how-to-survive-hard-times/
2014 has been a tough year for me physically, mentally, emotionally. I've been feeling short-tempered, limited and frustrated with my limitations, like my physicality is interfering with my goals (which it does.) This year alone I've had pneumonia, a super-long virus that's spurred more autoimmune neurological problems, two types of stomach flu, broken my arm, and sprained a couple of joints.
Yesterday I was up in La Conner, Washington, for the Tulip Festival, and happened to see something I have never seen before – a huge mass of trumpeter swans in flight. It was noisy, astonishing. The trip hadn't started out in an auspicious manner – I had fallen on my right wrist and sprained it. I felt prickly and tired. But the persistent sunshine (unusual for this time of year in the Northwest,) the shining faces of many kinds of tulips and apple blossoms and daffodils, and then the unexpected spectacle of the swans made me remember why we should make an effort to embrace the things we love, to let the light in, to refuse to sit around huddled in fear. When we make a conscious effort to find things to be grateful for.
Palm Sunday was this weekend, Passover began, there was a blood red lunar eclipse. I'm no spiritual expert, but it seems like a spirit-moving sort of time. I was sitting in church (for the first time in a while) and thinking of all the good things that have happened to me – the things I might not have been able to focus on because of the looming fears, physical troubles, or other types of darkness. This Thursday I'm having another MRI to check for things – scary neurological things, I'll admit – and that induces a kind of anxiety that is hard to forget about, even in the midst of flowers and white-winged birds.
I'm turning another year older this month, and it's National Poetry month (both of which I'll admit have been pushed into the corners of my mind.) Being a writer is a funny thing – so many ups and downs – mostly downs – and uncertainty is part of the job. Being human makes us vulnerable to fear, depression, anxiety, genetic mutations, rare autoimmune problems that attack our systems. I mean, we are really pretty delicate little creatures, we don't have infinite time, and we have to learn to operate within the spheres we are given. The swans reminded me again that we are not tethered to the ground – at any time we can rise up, unexpectedly shining, and create something memorable, unanticipated, miraculous.